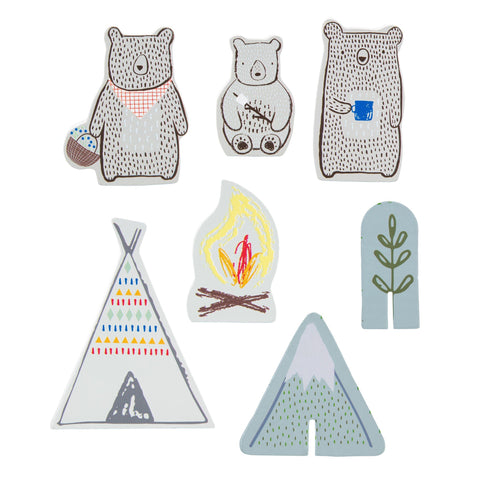 Childrens Wood Activity Suitcase Bear Camp Playset
Old Fashioned Wooden Role Play Toy 
Beautiful children's bear camp play-set, presented in a stylish woodland designed suitcase. A lovely gift to stimulate young minds to think of outdoor adventure and good family times, with Papa Bear, Mom Bear and Baby Bear, as well as a tend, camp fire all made from wood, turn the suitcase into the mountains and camp site, with extra trees and hills. Ideal to pack and go in play on the move and traveling
Features
Sturdy chunky figures for little fingers
Understated,cute & quirky illustrations.
A delightful gift for children from 3 years upwards.
Materials: Heavy duty laminated card with wooden figures & separate pop out cards to include trees & mountains etc., for extra fun time.
Dimensions: L 28.5 x W 9 H 19.5 cm
How to make wood toys for kids 
Off course if you have the time and someone handy in the family, then why not add to your childs wooden toy collection with the delightful ideas in this video. 
Video showing 5 ideas for making your own wooden toys 
---
---
Back to Top