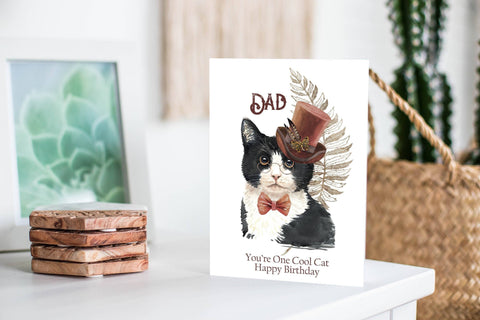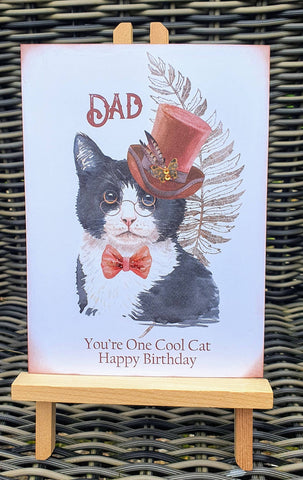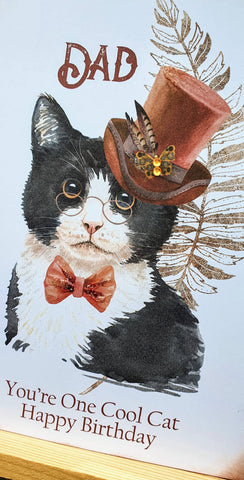 Cool Cat Steampunk Birthday Card, Victorian Style 3D Top Hat Cat Card For Men, Any Age Or Name Greeting Card For Grandad, Son Or Brother
Dad Cool Cat Steampunk Birthday Card, Victorian Style Top Hat Cat Card For Men, Any Age Or Name Greeting Card For Grandad, Son Or Brother
Designed in house with digital art and graphics, a super cool cat with top hat and glasses, finished with hand matt glitter, gems and a hand vintage coloured edge, a beautiful cat
Who's this for?
Ideal for the man in your life, whether that's Dad, Daddy, Grandad, Pops, Son, Brother or Uncle add any name you wish and age.
What do you get?
Choose from 2 sizes normal greeting card size or larger A5 ideal to Frame
Fine art inkjet printing on 300gsm fsc card, 100gsm liner, 100gsm gummed card
Matt glitter accents and a gem on his hat, with soft brown edging to complete the vintage effect.
If you love this you may like this
https://www.etsy.com/uk/listing/799865384/
Keep browsing here
https://www.etsy.com/uk/shop/cherishthememorycouk
Message me using the button under my name
Handmade item
Materials: 300gsm fsc card, ink jet print, 100gsm liner, 100gsm gummed envelope
Made to order
---
---
Back to Top